Healthcare Workers Suffer on-the-Job Injuries at an Alarming Rate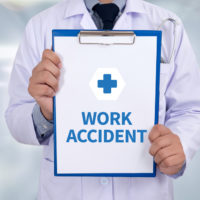 Working in healthcare as a nurse, physician, or medical assistant offers an opportunity to help people return to a state of health and well-being from their weakest point. It also brings the risk of acute injury, as well as injuries developed over time as the result of the high physical demands of the profession. Read on to learn about the risks faced by health care workers, and contact a skilled Ohio workplace injury attorney if you've been hurt on the job.
Research shows risks faced by healthcare workers
The US Department of Labor conducted a study of hospital-based healthcare workers to determine their rates of injury at work. According to the 2015 study, approximately 58,000 hospital workers were hurt on the job in a single year. This accounts for 6% of all hospital workers, and a rate of injury over twice that of the average private sector employee. Hospital-based healthcare workers aren't the only ones who are at risk of injury, however. Workers in settings such as assisted living or rehabilitation facilities are also at risk of injury.
The study found that the most common form of injury to healthcare workers stemmed from overexertion. Tasks such as moving a patient from one bed to another or from a wheelchair to a bed require a great deal of strength, and they are often performed by workers who have already been on the job for many hours. Healthcare workers who are stretched thin by understaffing, exhausted, or under time pressures may not have the chance to call for the help they need with these tasks, and become injured as a result. Additionally, healthcare workers are at a higher risk of being the victim of violence on the job, since healthcare workers often see patients who suffer from serious mental illness and drug intoxication.
Healthcare facilities must act to reduce the risk of injuries
 There are steps that medical facilities can take to reduce as much as possible the risk of injury to its employees. The Occupational Health and Safety Administration has created guidelines for use by hospitals designed to reduce injuries among workers. These guidelines include suggested protocols on moving patients, as well as minimum staffing guidelines and suggestions on how to reduce the risk of violence in the workplace. By failing to implement these types of safety procedures, hospitals and healthcare facilities put their workers at unnecessary risk.
If you've been hurt on the job in Ohio and need help in getting the money you deserve for your injuries, contact the seasoned and effective Columbus workers' compensation lawyers at Miller Law Practice, LLC for a consultation, at 614-591-6822.