What Five On-the-Job Injuries are Most Common?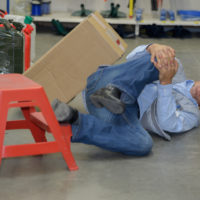 Getting hurt on the job is something that can happen to workers in any field, at any time. There are certain injury causes which are listed by applicants for workers' compensation benefits again and again, both among injured workers in Ohio and across the country. Research conducted by Liberty Mutual revealed the top five most commonly-reported reasons why workers seek benefits. Learn about the leading causes of on-the-job injuries below, and contact a Columbus workers' compensation lawyer if you've been hurt on the job and need help getting the benefits you deserve.
Overexertion involving outside sources: This injury category includes claims made for workers injured while pushing, pulling, lifting, throwing, turning, or carrying an object, whether the injury culminated from one incident or over the course of months. Twenty-three percent of workplace injuries fall under this category.

Falls on the same level: Any time a worker is hurt when tripping, slipping, or otherwise hitting the ground or another surface without falling from a substantial height, their injury is considered to be caused by a fall on the same level. Almost 18% of workplace injuries fall under this category.

Falls to a lower level: Falls from a height, such as from a ladder or scaffold, or to a below-ground location such as a shaft or trench, will be considered a fall to a lower level. Slightly over nine percent of all workplace injuries fall into this category.

Struck by an object or equipment: 7.4% of reported workplace injuries involve a worker being hit by an object. This could be a falling piece of equipment or building material, something dropped from overhead, or a swinging boom or other hazard. 

Other exertions or bodily reactions: This broad category could include injuries such as stress fractures from prolonged standing or sitting, repeated bending, eye strain from reading a computer screen or using a microscope, or other sprains, ruptures, or nerve damage. Carpal tunnel syndrome is a commonly-claimed-for injury falling under this category, as are other repetitive motion injuries. These injuries encompass 6.5% of all on-the-job injuries for which benefits are claimed. 
For skilled and effective help with an Ohio workers' compensation claim, contact the Columbus workers' compensation lawyers at Miller Law Practice, LLC for a consultation, at 614-591-6822.